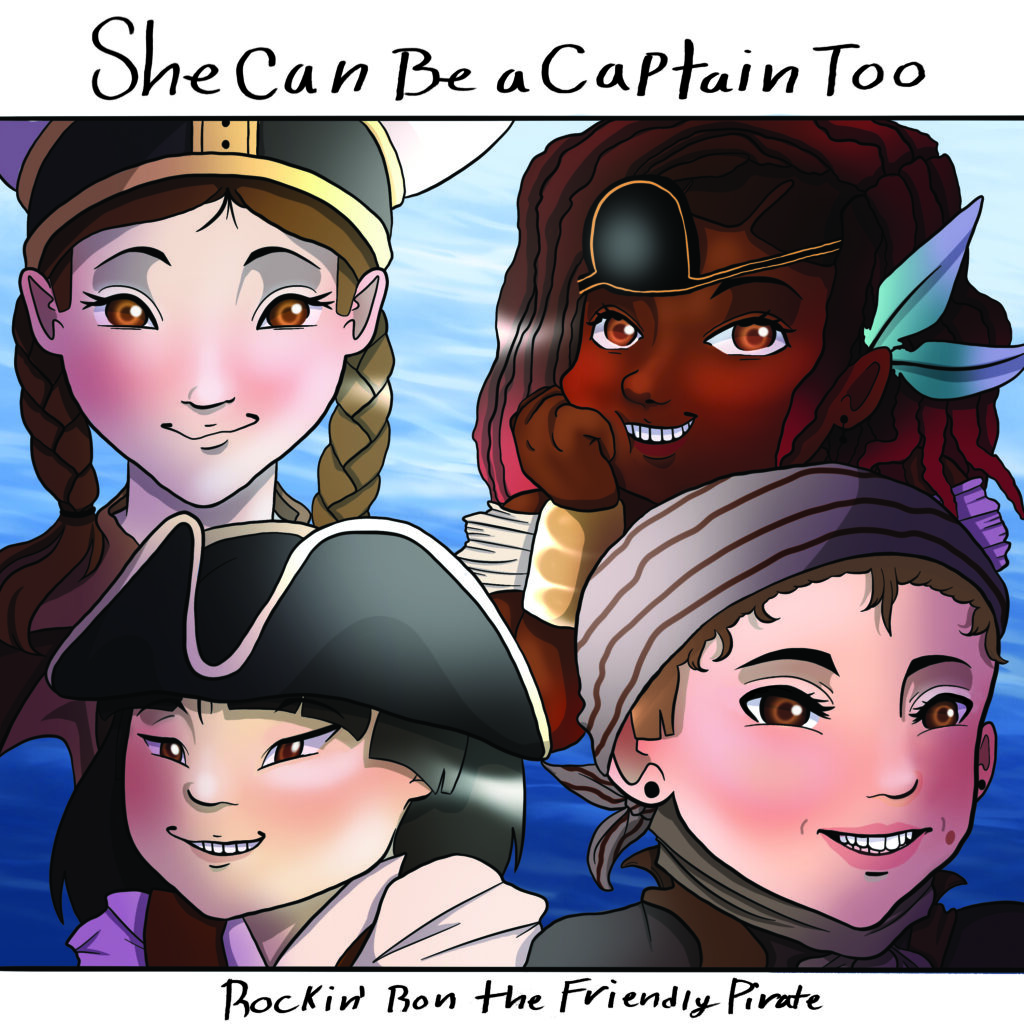 She can Be a Captain Too is the lead track on my latest album Captains and Sea Monsters. It is meant to be encouraging and inclusive (see lyrics below). It was inspired by my 10-year-old neighbor Rhea Ferris. I asked her what she wanted to hear in a Pirate song, and she said, "that I can be a Captain". The song practically wrote itself. I used the opportunity to reference four women pirates from History.
That anime inspired artwork (above) was done by Preston Joiner. Rhea's sister Tea did the lettering on the artwork. Pictured clockwise from upper left are Rhea Ferris, Grace Smithers, Michaila Thoelke, and Ozella Mae Chu Cadden.
In addition to my lead vocals, the track features Andre Maquera on lead guitar and bass, Caleb Bronz on drums; and a cast of girls and women on backing vocals: the aforementioned Grace, Michaila, Rhea and Tea, as well as April Tuck, Marie Clarke, Naya Alamatori, and Wendy Maquera. The track was produced by Andre at West Street Digital.
Watch my video audition for NPR's Tiny Desk feature and the official She Can Be a Captain Too video.
She Can Be a Captain Too
By Ronald Roy Carter aka RRR Carter
© 2021 Ronald Roy Carter, RRR Carter, RRR Sea Music
From the album Captains and Monsters
Inspired by Rhea Ferris. Dedicated to Rhea Ferris & Kamala Harris
CHORUS: She can be a Captain too; she can do what they can do
She can lead a Pirate Crew, she can be a Captain
VERSE 1: She's as smart as a whip, knows her way around a ship
Just as brave as brave can be when out upon the open sea
CHORUS
VERSE 2: She's escaped from tough spots, knows the ropes and sailor's knots
Heart is stout, eyes are sharp and she can play upon the harp
HISTORICAL BRIDGE: Alvida in the Viking times and Pirate Grace in Irish rhymes
Ann Bonney down in Carolina and Madame Cheng in China
"All hands on deck, hoist the sails, look lively"
VERSE 1
CHORUS
"I can be a Captain! I can be a Captain! I can be a Captain!"
She… can be…a Captain
"I can be a Captain too!"