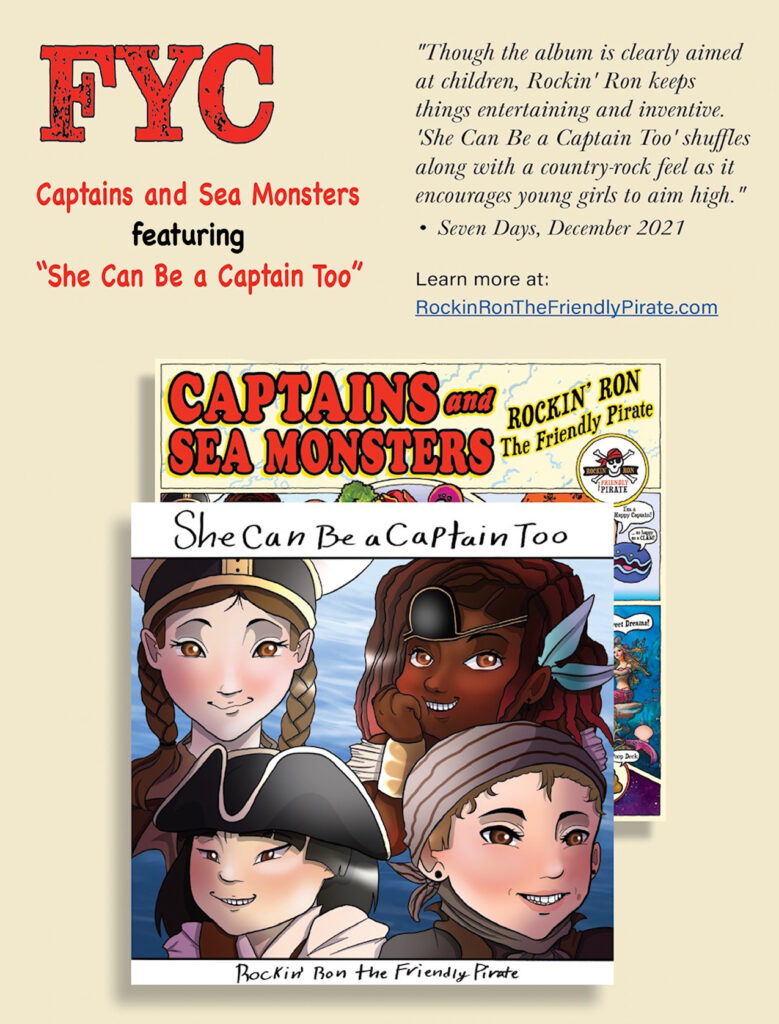 For Your Consideration – I am proud that my 5th album – Captains and Sea Monsters – will be in contention for Best Children's Album. It features She Can Be a Captain Too, Sea Monsters' March, Poop Deck Dance, and Pirates in Outer Space, among others. Because parents and kids have told me, I know that my music and lyrics are as good or better than any children's music out there. I strive to be entertaining, educational, inclusive, inspiring, and FUN!
For the Fall, in addition to my weekly appearances at my home port of Smugglers' Notch Resort, I'll be sailing to ports throughout the Northeast. From September 7th-11th I'll be at the New Brunswick Exhibition in New Brunswick, Canada, playing multiple shows daily. On Saturday, September 17th I'll chart a course for Killington, Vermont and the Vermont Fairy Tale Festival. On Monday, September 19th I'll be at the Kilton Library in West Lebanon, NH for International Talk Like a Pirate Day, singing the title song of my 4th album Talk Like a Pirate. on Saturday, September 24th I'll be in Hartford, VT for Cornerstone Community Center's Apple Festival (apples help prevent scurvy). And on September 30th I'll be in nearby Essex Junction at Maple Ridge Memory Care.
I hope to SEA U soon!